Funding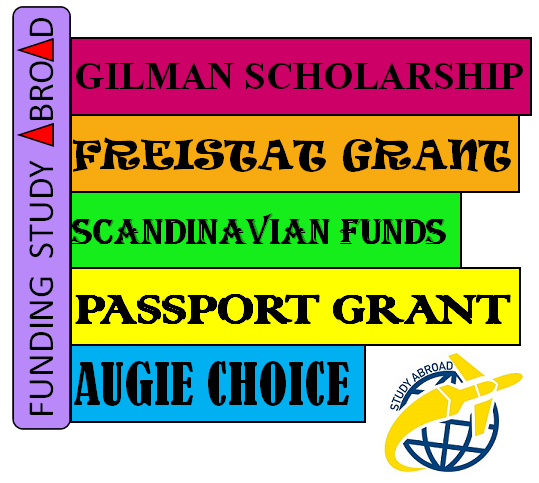 Studying abroad can be a life-changing experience! The Gilman Scholarship Program provides up to $5,000 for undergraduate students who are U.S. citizens and Federal Pell Grant recipients at four-year institutions. The Gilman-McCain Scholarship provides awards of $5,000 and is also now available for child dependents of active duty military personnel who receive any type of Title IV Federal Financial Aid to study or intern abroad. Apply at
gilmanscholarship.org

The Freistat Center is accepting applications until JANUARY 31st. The funding is for faculty and students during the summer of 2020 and academic year 2020-2021. The Application is through google forms, link sent out by Ella Fly. If you need a link to the Google form, please email Ella Fly at ellafly@augustana.edu
The primary purpose of the Center and its grant programs is, in the words of our Benefactor, William F. Freistat, "to provide stimulus and opportunity for Augustana (faculty and students), whatever their major fields of interest, to participate in the human search for ways to resolve conflict."
Faculty grants cover:
Research worldwide
Research in peace studies
Travel to present research at international conferences
See details about faculty grants
Student grants cover:
Expenses related to the Student-Faulty Fellows Program
Expenses related to the Language and Cultural Enhancement Program
Intensive language study abroad
Travel to present papers at undergraduate and professional conferences
See details about student grants
Past Freistat Grants were awarded to students who studied in:
Ecuador, Japan, Germany, Spain, Sweden, Greenland, Morocco, Guatemala, Netherlands and more!
Deadline:
Friday, January 31st
For more information contact:
Heidi Storl
William F. Freistat Professor of Studies in World Peace
heidistorl@augustana.edu

Funding Resource
Applicable Countries
Scandinavian Seminar
Denmark, Norway, Sweden
Sweden Folk School Association Website
Sweden
Norwegian Folk School Association Website
Norway
Danish Folk School Association Website
Denmark
Finnish Folk School Association Website
Finland

What is the Passport Grant?
The Augustana IOP Passport Grant is a need-based scholarship of $1,000 which is awarded to 30 Augustana students annually to support their participation in an Augustana-sponsored study away program. Programs include Summer Away and J-Term programs.
Grant awards are applied directly to the cost of the Augustana program, acting as a discount on the program expense. They may not be used on non-Augustana programs.
The grant application deadline is March 13, 2020 and grants will be awarded a week later.Passport Grant Notes
Students may combine this grant with Augie Choice if they are eligible for Augie Choice for the program selected. Preference will be given to first time study abroad participants.
While this is primarily a need-based grant, consideration of the quality of the application and application essays will factor into the grant award process.
Grants are awarded to pay for program costs of the students' first choice. Students who are awarded a grant and then opt for a different program than the one indicated may be reevaluated for grant eligibility.
All grants must be used towards the expenses of a study away program during the summer or academic year which follows the award. Students who defer their participation beyond that year forfeit the grant and must reapply in the next grant cycle to be reconsidered.
Students who are awarded a grant and opt not to enroll in the program will not receive the grant funds.
Students may not request the grant funds as cash. They are applied as a discount towards the Augustana fee for the study away experience.
The IOP Passport Grant must be used toward an Augustana endorsed program.
2019 Passport Grant Application (3).docx
Use $2,000 to help offset the costs for the study abroad trip of your dreams! This is a life-changer. Use it! All Augie Choice applications for an Augustana-led or endorsed study abroad program will be completed in
Studio Abroad
. Upon applying for your program, you will receive prompts regarding how to go about applying for the grant. If you have any questions, please contact Beth Ford at bethford@augustana.edu